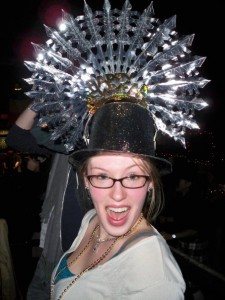 Hello 2012!
I am truly hoping for a more predictable year than 2011, which was 12 months of emotional roller coasters, major life changes and new territory.
It was my first full year of being in my 30s. We also passed the one year anniversary of the loss of my mother-in-law and the 15th anniversary of the death of my father.
I marked a year of vegetarianism, and my husband met me at pescetarianism just after that milestone.
We found out we were having a baby… three days after I quit my job to be a freelance writer.
I learned a lot about my health and the way I perceive it. I'm ending 2011 as a very healthy person who happens to be six and a half months pregnant, but for a lot of the year, I was convinced such a thing was impossible. There are a few reasons for this:
I have a cancer phobia (above links will tell you why), and tend to jump to the big "C" as the conclusion for every little thing.
I read scary health headlines, researched various diseases and sought safety in natural, clean living for work, and it made me just a liiiiiittle bit paranoid.
I can become chronically anxious over my health, so much so that I allow depression and minor illness to cycle into nasty trouble.
Anyway, I basically ran the gamut of health issues (in my head) – from heart trouble, to just about every cancer there is, to infertility, to stress that leads to any of those. Fortunately, I found a good therapist, stayed confident in my diet, exercise and detox routine and continued doing yoga. The multiple tests, exams and blood work also helped reassure me, and I'm seeking them a lot less these days.
It's a good thing that I'll have a lot to keep me occupied for the next few months.
Of course, maybe I'll switch to wigging out over the world ending on December 21, 2012. At this point, I'm not really worried. I fret over the things I can actually do something about. Control freak much?
So that was my year. There was a lot of good between anticipating our daughter, a fairy tale marriage and finding calm through friends, family and knowing myself.
I wish you all the Happiest of New Years, and hope you have a wealth of health, happiness and beauty in the coming year!