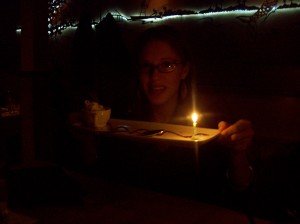 Saturday was my birthday.
There's no better way to celebrate than eating, I think. I also decided to do nothing practical with my computer.
My husband presented me with a gift of 12 red roses and yoga socks shortly after midnight. Hours later, after we got up for the day, he made me a big veggie omelet. Not once did he complain about the bowl of cucumber slices soaking in apple cider vinegar in the fridge. I know this was a particular challenge for him.
We putzed around the house for a while, tidying here and there and watching a few things online. It was a nice balance of getting stuff done and relaxation.
In the evening my sister and her husband came over so we could all go to dinner at the Bonefish Grill. My husband remembered earlier in the week that I'd wanted to go there for quite some time, and made reservations for the four of us. This is where the serious eating of the day happened.
The place is awesome. As pescetarians, the husband and I are accustomed to having very few choices when we go out to eat. We usually just select whatever shrimp, salmon or veggie dish they have on the menu. But at Bonefish, the majority of options are seafood. It was almost overwhelming.
Of course we had to start with an order of the "customer favorite" Bang Bang Shrimp. It was a small mountain of medium shrimpies covered in a creamy sauce with bits of crumbled fried crunchiness. I really have no idea what it was, but suggest ordering it if you go.
Our entrees included one lobster special, one salmon special and two of the choose-you-own-sauce shrimp and scallop dinner. Everything was fantastic. Rich but not too rich, perfect portion sizes and very well timed with the appetizer and bread courses.
Dessert was a must. Creme brulee all around, mine a special (and free!) birthday version. Sadly, they were out of creme brulee. We resigned ourselves to piles of brownie, ice cream, whipped cream and raspberry sauce. But after a few minutes someone swept up to the table with a lit candle on a long white dish which held an espresso cup of chocolate creme brulee and a trail of raspberry sauce. Bliss. And I'm pretty sure there was some sort of alcohol in the creme brulee. Not enough to hurt the fetus, but enough to make the birthday mommy-to-be feel like she was getting that birthday shot.
Since there was a show over at the best Irish pub in Grand Rapids, Quinn and Tuites, we stopped down for an hour or so to hear some music and see some people. As we're friends with the owner, who's just about the most lovable and generous man you could meet, I got a free birthday drink. He offered me a "NA beer" which I assumed would be O'Doul's. Nope. Apparently Labatt makes one as well. I admit, it was fun to hold a beer bottle, though I was hoping no one thought the pregnant chick was drinking actual beer. I got over that though.
So that was my birthday. Quiet compared to the hijinks of the past few, but I suppose that happens, especially when one is incubating. But it was very pleasant – I highly recommend having your birthday on a Saturday.