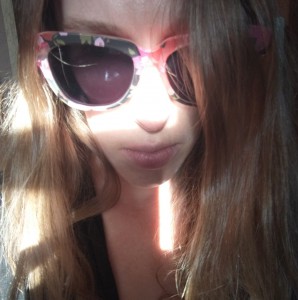 Hello there. My name is Katherine (please, call me Katie), and I am the author of Human Textuality.
I'm also a freelance writer, editor and marketer. In the summer of 2011 I left my full time job to pursue this dream. If you'd like to know more about what I do, please visit my Portfolio Page.
Facts about me:
I am a writer by education and trade.
I am a (somewhat reluctant) Midwesterner, probably for life.
I spent eight years in and out of colleges and majors, finally graduating with a BA in creative writing and history minor in 2007.
George Washington and John Lennon have had profound influence on my life, especially for two deceased cultural icons.
I am a blissful wife, and married my best friend of six years in 2005.
I'm usually hungry.
I eat no meat, poultry or waterfowl; I enjoy occasional seafood; I can't take too much dairy; I am obsessed with eggs.
I try to exercise frequently.
I went to New Orleans in October, 2014 and fell in love. It is a magic city and will forever have my heart.
I've flown over the Atlantic Ocean eight times, two of those times in first class (thanks to happenstance, not wealth).
I found out I was pregnant four days after giving my two weeks at a full-time with benefits job… in the wake of the recession.
I became a mom on Saint Patrick's Day, 2012. It was 80 degrees and sunny in West Michigan. My daughter, Iris, is an imaginative, caring, singing free spirit.
I had a second baby on Groundhog's Day, 2016. It was unseasonably warm that day too. My son, Rowan, is a sensitive wild child with a heck of a memory.
I'm anxiety prone, especially over my health and that of those I love.
I am half Dutch, one quarter Irish, an eighth German and an eighth Welsh. I identify most strongly with the Irish (and no, the St. Pat's delivery was not planned).
I have one very old house.
I have a puppy, Lennox, and two kittens, Panther and Freya, all born in early 2021.
I find cooking and gardening therapeutic, and do not like taking shortcuts in either.