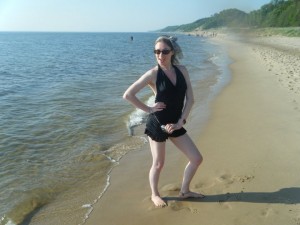 In this post, I made a vow to my long-dead relatives:
"In 6 months, I promise to thank you for freshwater beaches, piney woods, and a significant lack of hurricanes."
Admittedly, it's been seven months and two days, but fashionably late is typically my way.
And so, on this day of new beginnings, I thank you, ancestors, for settling in West Michigan.
This is a summer where I have not cursed the sun, even as the heat index soars into the record triple digits. I'll take pasty sunscreen and melting makeup any day over the frigidity of winter. I'm going to give you the benefit of the doubt and guess that you stopped here in July.
My trips to the beach have been glorious. The inflatable pool in the backyard is ghetto-fabulous. The window unit is constantly running in the finished attic bedroom, and the gardens are in that transition between colorful new blooms and ripe tomatoes. Compared with a northern winter, this is a circus!
I imagine that you tolerated the heat better than we do these days. Because I sit in air conditioning (well, did, when I worked in an office) most of the time, I might have a heightened patience myself. We'll find out soon enough. My home office is HOT!
And so, this is me thanking you for all things wonderful about a Michigan summer. I have a lot to be appreciative of these days, and I suppose I owe that, at least in part, to you.
Now – to see if I can make money without a boss!