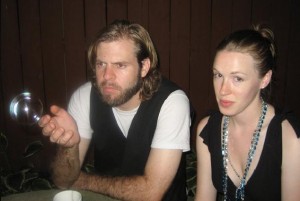 Hi! This is my first post on the new .com!
I have a lot to learn yet about blogging in general, and probably even more about exactly what I want for this blog… I do know that I intend to post at least three times a week (beginning next week), and at the same time begin my career as a freelancer. I'm nervous, but couldn't be happier to be out from under the thumb of a boss, mandatory lunch breaks and the creative suppression of a grey cubicle.
I'm still trying to figure out how to organize things like blog subscriptions and RSS feeds and frivolous images of myself, so I beg you to bear with me as I get my act together. I will do what I can to make the content somewhat interesting in the meantime.
And so… on this my darling husband's 32nd birthday (have a happy one, dearest!), I declare myself blogging adult – bladult.
Thanks for reading!