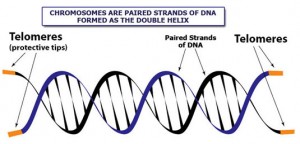 Full disclosure: The main reason I started writing this post (way back in early June)  is that I really liked the word 'telomere' – I like the way it looks and I like the way it sounds. The content just happens to be interesting science stuff, and relevant to each and every one of us.
Ok, so have you ever had your palm read? How about your DNA? What if I told you that there was a way to get your life line interpreted by reading the tips of your chromosomes?
Would you buy it?
Telomeres
Here's the science: Telomeres are stretches of protective DNA at the tips of our chromosomes. Every time the cells those chromosomes inhabit divide, the telomeres get shorter. Some people think of them as shoelace tips because they prevent damage to the chromosome itself. Others think of them as bomb fuses, because they get shorter with time.
Here's a more detailed explanation from the University of Utah:
"In human blood cells, the length of telomeres ranges from 8,000 base pairs at birth to 3,000 base pairs as people age and as low as 1,500 in elderly people. (An entire chromosome has about 150 million base pairs.) Each time a cell divides, an average person loses 30 to 200 base pairs from the ends of that cell's telomeres. Cells normally can divide only about 50 to 70 times, with telomeres getting progressively shorter until the cells become senescent, die or sustain genetic damage that can cause cancer."
So, basically, you use them up, and are left with less than 20% of your original telomeres when you are old. And the shorter your telomeres, the higher your risk for no-fun diseases.
In some ways, this really isn't so surprising. It's common knowledge that our risks for everything increase with age. The cool part is that science seems to have pinpointed a tool for risk measurement in our bodies beyond the routine blood work and family history. This is genetic reading at its finest, or at least its most exciting (for me, anyway).
If you want to have your telomeres read, it's going to cost you hundreds of dollars. For a lot of us, a better bet might be to simply keep putting the odds in our favor with diet and exercise. Nature loads the gun, but nurture pulls the trigger.
In addition the the costs of telomere testing, there's the controversy. Everything from the value of the test for individuals to how to lengthen telomeres to what your employer will be allowed to test for before giving you insurance is on the table. It's a fascinating can of biopolitical worms.
Telomere Me

What this really comes down to for me is that I've realized how much I wish I could see the future. I want to be among those people in 300 years when they look back at us telomere-challenged 21st century humans and wonder how we kept letting ourselves get cancer, the way we look back with pity on those who died from everyday fevers and infections.
Most of my life I've been a history nerd-girl that romanticizes the past, is fascinated with mummies and wants a time machine to go visit colonial Virginia and then the cavemen. But more recently I've been drawn to the future. Cosmology rather than anthropology – the clean blue of deep space rather than the varied browns of ancient earth. Maybe this is another part of getting older… I've done the past, and now I hope for the future.
Anyway, telomeres are awesome, and I hope yours and mine are long long long. Keep eating that organic spinach!
The 10,000 Year Clock – For Something Completely Different, Equally Awesome
In line with the whole time-future-people theme I've tried to get here is The 10,000 Year Clock. I'll just say that it's a giant clock, in a mountain, that plays music and will run for as long as people have lived in 'civilization.' It is well worth a glance at this website: The Long Now Foundation
To the future!
Sources:
https://www.nytimes.com/2011/05/19/business/19life.html?pagewanted=2&_r=1&partner=rss&emc=rss
http://learn.genetics.utah.edu/content/begin/traits/telomeres/