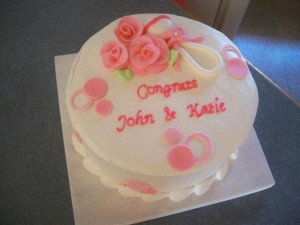 Alright, I promise not to ramble about every baby shower we have, but I would like to use this occasion to announce the official opening of the Miss. M. Countdown.
We're now at 34 weeks, and the shower season has begun. The next few weekends will see us spending time with our wonderful friends and family, who are so kindly throwing us parties and buying us gifts.
Yesterday was the first, given by my husband's step family. It's rare that I get together with just the ladies from this crowd, so it was fun to sit around and eat girlie food and cake while looking at socks with bows and hooded towels.
My sister-in-law (who writes about parenting hilariously at Buried with Children) put together a fantastic veggie friendly menu with roasted eggplant dip, spinach feta hummus, fresh fruit in waffle cones, deviled eggs (omg YUM) and more. My step sister-in-law commissioned a friend of hers to make a cake that both satisfied my sweet craving and makes it so I can't stop thinking about the extra pieces now in my kitchen.
And of course, there were presents. I'd forgotten how much fun it was to open a bunch of gifts… birthdays are more about good meals and funny cards containing checks these days, which is awesome. But the last time I got to do this was when we got married over six years ago. It kind of makes a girl feel like a princess, especially when the gifts are pink and fluffy.
It all serves to make the whole thing feel a little more real – that and the regular pressing on my right hip. I think the next six weeks are going to be a lot of fun.