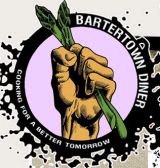 Yesterday I met up with some old friends for an afternoon of lunching and sipping.
First of all, it's always nice to reconnect with the folks who knew you when you were 20 and stupid during the holiday season. Lately I've been feeling a little too grown up, and although incubation circumstances keep me from getting crazy, just being around the people who knew me back when can reinvigorate some of that youthful sensibility.
Also lovely was the fact that it was sunny, snowless and over 40 degrees.
We met up at a relatively new restaurant in Downtown Grand Rapids, Bartertown Diner. If you're in the area, go there. Bartertown features tasty vegetarian, vegan, raw, gluten-free and local fare, though they do offer regular cheese and work in partnership with a local cupcake vendor. They've also got lots of progressive ideas when it comes to community involvement and fair working conditions – something I'm especially interested in after being a waitress for 8 years.
An added bonus for my friends and me was that Bartertown is located in the space that used to house Discussions Coffeehouse. Both of these friends used to work at Discussions, and we'd all spent countless hours under the faux torch lamps listening to Cher, Madonna and Rent karaoke back when you could smoke indoors. It was surreal to be in such a familiar room after its atmospheric makeover.
Next we headed to The Sparrows coffeehouse, teashop and newsstand. Although The Sparrows has been around over four years, most of us had very little experience with this place. The vibe is pretty typical for a GR coffeehouse, but their extensive loose leaf tea selection and emphasis on local goods makes them stand out. I also enjoyed what I believe was some sort of vegan oatmeal chocolate chop cookie.
It was a very pleasant winter (almost winter…) afternoon, and left me enough energy to make a hearty and healthy dinner of whole wheat tortilla wraps and apples. Yum.
Have a wonderful Monday, my dears, and steel yourself for the chaos to come with a friendly visit and lots of good food.