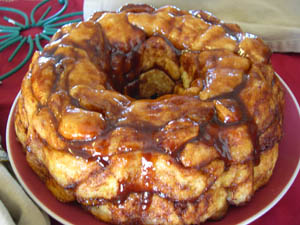 Someday this will end – I'll get my head on straight after the holidays, before the baby comes, and I'll write a Wednesday post that doesn't rely on links and other people's recipes.
This is not that day.
And in truth, food is at the forefront of my mind anyway, so I might as well share my thoughts with you.
First up, custard nog. I usually buy eggnog around this time of year, but as my husband is a big fan of custard, I decided to try the "Colonial Style" custard nog they have at Meijer. It's a bit thicker and sweeter then egg nog, and caused my boy to go through almost a whole carton in two nights:
Next, veggie egg bake. Our gracious neighbors always invite us to their Christmas morning brunch, and since we're the only vegetarians in that group, I'm planning to make this for hubs, myself and anyone else who wants to curb the holiday cholesterol (using organic, cage free eggs, of course):
And finally, monkey bread. I seriously can't stop thinking about it. I have wonderful childhood memories of cozying up in an auntie's apartment to decorate a tree, eat meatballs and pick at the sticky phenomenon that is monkey bread. I'm going to make single servings (with a muffin tin) on Christmas Eve:
I hope you have exciting plans for your holiday eating. While I can't help but mention the danger of allowing too much indulgence for three weeks at a time, I also feel that observing a healthy and detoxifying diet for the other 49 weeks leaves us a little wiggle room. Balance, my friends.
Enjoy the Solstice, and Happiest of Holidays to you and yours!!!