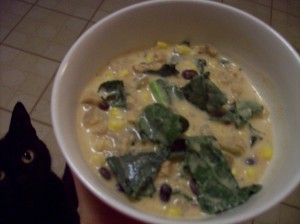 I've finally tried my hand at cream based soups.
This happy event only came about because I've been on a bit of a pumpkin pie kick, and insist on making my own organic cinnamon whipped cream to go with it. The only thing to do with the leftover cream was my favorite fall food – soup.
The first time I made a basic corn chowder, which was good but not very original.
The second time I had items to use up, namely kale and prepared black beans. I decided to go with a Mexican (Tex-Mex?) feel, and ended up with a sort of vegetarian white chili. Can you say Haphazard Recipe?
Warning: When making soup I never measure; it's all by feel. This is the basic recipe:
Ingredients:
Vegetable broth
Bay leaves (I used dried chopped, they are not poisonous)
Chili powder
Minced garlic
Black pepper
Cilantro
Red pepper flakes
1 medium red onion, diced
1 large potato, diced
Corn (I just used frozen)
Black beans
Salsa
Heavy cream
Kale leaves, chopped
Directions:
Put veggie broth in a pot and set over low heat.
Add bay leaves, chili powder, garlic, black pepper, cilantro, red pepper flakes, and the diced onion. Stir a bit.
Add diced potato and allow 30-45 minutes or so for it to become tender.
Once the potatoes are tender and the soup is warm with mingling flavors, add the corn, black beans and salsa (you really don't need much salsa at all).
Within about 1 half-hour before eating or serving, add the cream and chopped kale. Keep on low heat and stir often.
Smart Cookie Tips
For mine, I added a texturized soy protein product that's similar to TVP. It's a product that basically substitutes for ground meat, and I seasoned it like a sausage.
Add the cream slowly so as not to put too much in there. I think I may have gone a bit overboard. While the soup was quite tasty, it was maybe a little too rich. Also, the cream diluted the other flavors more than I wanted.
At least the cat was intensely interested.
Disfrute!