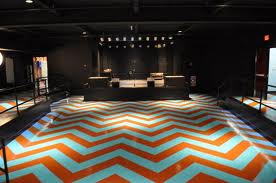 I want to give a quick shout out to a relatively new bar and venue in Downtown Grand Rapids – The Pyramid Scheme. I got to check it out for the first time last night.
My husband's band, The Pilot Lights (woot!), was one of several bands participating in a benefit show for a local gentleman recently involved in an accident and medical mishap. The Pyramid Scheme hosted the event, which included live music, free food and a silent auction.
I admit to not getting out to local shows as much as I used to. Something to do with money, work schedules and pregnancy. Basically, I'm no expert on the Grand Rapids music scene. However, I just got a good feeling from this place. Smaller and more intimate than the "new" Intersection (yes, I remember the Eastown version) yet not crammed, the stage area of The Pyramid Scheme was subtle yet memorable. The floor is blue and orange zig-zag (as seen above), a touch of color in the blackened room.
What really stood out to me was how great the music sounded. I've heard the Pilot Lights a number of times in a variety of venues (including a living room), and I always think they're good. But they sounded especially good in the space at the Pyramid Scheme. And they looked good too. The LED stage bulbs put my man in the rockstar lights he deserves.
Even better, the food was all veggie-friendly. I heard that all the food they do there is vegetarian or vegan. Bonus.
So, if you're in the area and looking for somewhere to go with music drinks and $1 off Michigan bevies during happy hour, check out The Pyramid Scheme!