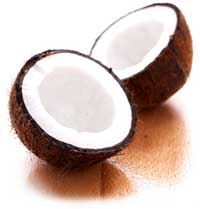 For most of my life, I've had an ambivalent relationship with coconut. I never minded the flavor, but was firmly against the texture of shredded coconut, which is the form in which I'd always experienced the food.
As I got older, I learned to appreciate coconut, but have only recently realized how many coconut products we can incorporate into our diets for good taste and health.
In just the past few weeks I've noticed people talking about coconut more, mainly as an alternative for those on vegan, lactose intolerant or gluten free diets. And I always take Housewifing Around seriously.
For my part, I've started buying coconut milk and cutting my dairy with it. I still like almond milk, but coconut is a bit more like the dairy in color and texture. It's also just something different.
So now I'm curious to try other coconut products. Not just for the taste, but the healthy goodness: low sodium, high fiber and a wealth of vitamins and minerals. The fat content of coconut is debated. While the fat is saturated, it is not identical to the saturated fat in animal products. Still, it will raise your LDL ("bad") cholesterol more than fats like olive oil.
One consensus seems to be that although coconut milk might be high in fat, it cooks well with healthy foods like fish, tofu and vegetables, and encourages a diet that is overall lower in fat.
The benefit of coconut milk is obvious for a vegan or lactose intolerant diet. Less apparent might be the use of coconut flour in gluten free diets.
Ideal places to find coconut products are ethnic grocery stores and health food stores. For more ideas on ways to incorporate coconut into your diet, see the third source below.
Sources:
http://www.vegparadise.com/highestperch58.html#Nutrition
http://www.abc.net.au/health/thepulse/stories/2008/09/25/2372372.htm
http://www.marksdailyapple.com/the-wonderful-world-of-coconut-products/