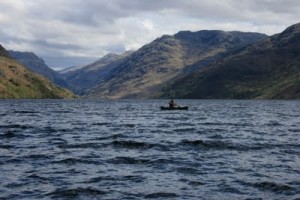 It's been a while… here's Part 1.
I awoke with a start to the flapping sound of wings. The gull that had been digging though the crumbs of my basket, scared by some shift of the wind, rose high into the air above my boat.
I immediately thrust my head over the side to look for what I both hoped and dreaded to see. But there was nothing more than water bugs and sediment, ripples from the breeze. I felt relief, but under that a curious disappointment.
My attention quickly changed when I realized I'd been on the lake much longer than I'd planned, and that there was no doubt a group of concerned family members wondering where I was and why dinner wasn't ready. Only briefly did I worry about knocking anything – or anyone – in the head with my paddle as I made my way to the beach.