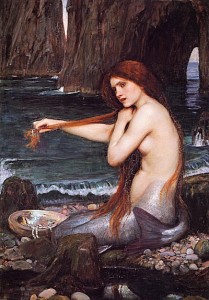 This Wednesday post is not technically based in health, science or practicality.
And in the name of all the princess and mermaid and snarfblat lovers out there, I care not. This is about magic and true love.
Ok, well, maybe it's just me letting a little of the eight-year-old out, but still. There IS a point to this.
Did you see the Huffington Post "Weird News" article about the documentary that explores the concept of merpeople being real? Basically, it plays with a theory that modern humans share a common ancestor with merpeople – a species that took to the water in deep evolutionary history.
The film maker is not saying he actually thinks merpeople existed, but thought it might be interesting to present the idea in a plausible way.
For example, he highlights human characteristics such as webbing between fingers and subcutaneous fat. These are unique to us among mammals and are similarities with sea life. Interesting.
For my part, I have long been fascinated with mermaids. Really, what little girl who saw Disney's Little Mermaid in the late 80′s wasn't? In recent years, I've toyed with penning a merworld mythology, which of course will make me a wildly successful fantasy writer.
I also love it when someone bridges science and myth with unconventional theories. It makes sense really… When numerous ancient cultures that had no apparent contact with each other all report something like a great flood or dragons or mermaids, the accounts have to be rooted in some sort of truth, don't they?
But what it really comes down to is that people love mermaids, and will jump on anything that suggests they were real, and I am certainly in that crowd.
Now enjoy this song about mermaids from Great Big Sea: