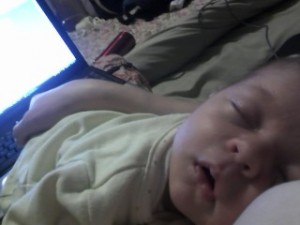 I'm not gonna lie – working from home with a new baby is tough.
Hence the infrequent posting.
I began incorporating some work back into life after Iris was about three weeks old. I started slow with just a few little jobs here and there. The biggest thing I did was go into the office where I answer phones and do some work for a friend's publishing company, and that was just two shifts of two hours each. Most of the time was spent gabbing about the baby anyway.
But now, we're over two months in, and I'm already more than three weeks past when many women go back to full time. I certainly am not pushing myself to work anywhere close to 40 hours – I have to breastfeed and wash diapers and play with my daughter, and those are time consuming tasks.
In all honesty, I'd be perfectly content if all I had to do was take care of and nurture our little nugget. It's surprisingly fulfilling. Who'd have thought that the girl who envied her Ph.D friends and dreamed of creating characters all day could feel that way? I'm guessing those of you who are moms would have thought of it…
Actually, I think part of the contentment comes from knowing that Iris won't be a baby forever. Someday she won't need me so much and I'll have my freedom back, and it will feel like the hours in the day doubled.
I wonder if that will  make me happy or sad.
Either way, there will be time to write later. The wise have told me to treasure this time, because it is fleeting and so precious. As long as I can help keep us in some organic veggies and the occasional beer we'll all be just fine.