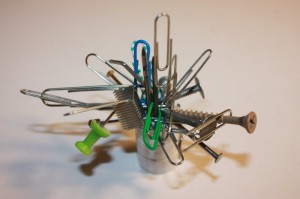 There is a small part of me that likes being in an office.
And that part is alive and well… about six hours a week.
Luckily for me, a friend of mine needed someone to answer phones in his law office three days a week, two hours at a time. The part time job fits perfectly into my schedule, is an easy way to earn some extra cash and gets me a little social time during business hours.
Not to mention that the atmosphere of this office is laid back and small. There are generally no more than two or three people there other than myself, and I can wear jeans.
Since it doesn't run my life or make me feel degraded in any way, I really do enjoy wearing real clothes and working on site during these six hours. As a bonus, my new boss is also a freelance client – he's running a small publishing company out of the office as well, and I manage to get some of that work done while I'm making copies and taking messages. We all win.
I guess the point is that I'm glad I've remained open to opportunities other than simply freelance writing and editing. Some human contact and work place structure can be good for a girl, as long as they don't sneak in too much. It's all part of the balance.