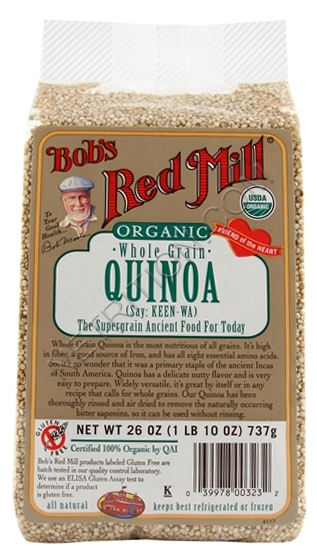 It all happened so fast…
I'd been perfectly happy with my brown rice and occasional couscous for a long time. Even after I stopped eating meat, those old standbys always did the trick when I needed a traditional meal base, or something a little more exotic with herbs and pine nuts.
But last night, everything changed.
We'd been eyeing each other a while, me and Bob's Red Mill quinoa (say: keen-wa). We'd never even been formally introduced, but I think we both knew that it would happen eventually. The small white 'grains' had wiggled their way into my pantry, and at about 6pm last night, I gave in.
I thought nothing of ripping open the bag and measuring out the grain and water – I'd done it a thousand times with rice… this really wasn't any different. But when the quinoa was finished, and mixing languidly with the seasoning and veggies in my Baby Buddha Bowl, I could tell by the look and smell that I was about to experience something new.
Maybe it was the complex taste (grain, nut, earth), or maybe it was the protein lovin' on my vegetarian gut (quinoa contains all nine of the essential amino acids!). Whatever it was, I was in love. I couldn't leave it alone. Part of me wanted to savor the satiating, yet delicate, treat. The rest of me wanted to devour every last bite to the point of indigestion.
My advice: Don't hold back. Give in to the the super grain that wants to get to know you.
Here's my Haphazard Recipe for a quick lunch or dinner:
Ingredients:
2 cups water
1 cup dry quinoa
olive oil (1 tbsp-ish)
1 diced Roma tomato
handful chopped onion
handful frozen peas
minced garlic (to taste)
Greek seasoning (to taste)
pepper (to taste)
dash salt
lemon juice (to taste)
Directions:
Boil the 2 cups of water
Add all the quinoa, reduce heat and cover
When quinoa is finished (similarly to couscous – water all absorbed, grain soft and fluffy), fluff with fork
Mix in olive oil, tomato, onion, peas, garlic, Greek seasoning, pepper, salt, and lemon juice
Put all food in face
Smart Cookie Tip
This part was totally an accident, but I actually cooked the quinoa just a little longer than it needed. The result was a lovely golden brown color throughout the grain, and a slightly toastier flavor.
Other good points to know about quinoa:
It's gluten free
Not actually a grain, quinoa is more closely related to leafy greens
It was considered the 'gold of the Incas'
I realize that for those of you who have worked with quinoa before, this is all ridiculously obvious. But for me, it took impulsive hunger and the need to use up leftovers to open that bag. I'm hoping that all of you who haven't yet enjoyed quinoa take a cue from my sudden and expected long-term affair.
Bain sult as!