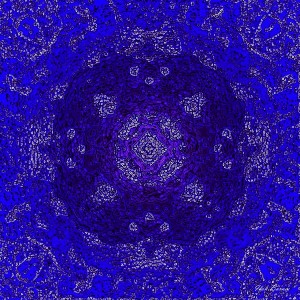 I always say that red is my favorite color. When it comes to food, flowers, decor and mundane objects, I suppose that's the truth.
But I also love blue. Aside from green (a hue I don't claim as my own for weird reasons only a fellow synesthete could understand), blue is the color that best represents life and growth. All you have to do is look at a picture of Earth to realize how basic and influential it is.
Imagine a world without blue. No blue sky. No blue eyes. No blue water because it's reflecting the blue sky. Blueberries. Delphiniums. Blue raspberry vodka… None of it. Eeyore may have been a blue downer, but a world without blue is just depressing.
I went through a phase a couple of years ago where I tried to work more blue into my life. After buying bathroom rugs, a makeup bag, shirts, shoes and earrings – all in lovely blues – to satiate myself, I felt a little better. I thought it was just because I really like the color. A study out of the University of British Columbia, however, suggests that there's more to it.
According to the study, blue can boost creativity and imagination. It's also calming. Not surprisingly, this probably has something to do with typical associations we have with the color, such as the sky and water mentioned above. I guess my "blue phase" was around the same time as a few creative streaks.
Personally, my favorite blues are the deep, electric ones. A clear Grand Rapids sky at 7am in December has it. In the summer, you can see it after the sun is completely set. If you blur your eyes at the picture at the beginning of this post, you might catch it in there somewhere.
So enjoy this blue dome over our heads while you still can, especially if you're in Michigan like me. Soon it (and the lakes) will fade to the grey of fall and winter.  Also, check out this video:
Source:
http://www.nytimes.com/2009/02/06/science/06color.html
Photo Credit: Ilah's Blog About Mandalas and Art