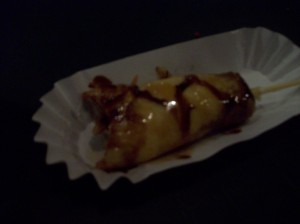 It's true – I ate a deep fried Snickers bar… on a stick. It was tasty, strange, and probably a bad idea. No regrets though. No regrets.
Around this time every September, the Michigan Irish Festival throws down in Muskegon, MI, which is along the shores of Lake Michigan. I've been attending for a few years now, and let's just say that this year was by far the tamest for yours truly (as my case of 9-month incubatitis doesn't allow alcohol consumption). I didn't climb up any bridges, dance foolishly with a stout in my hand or skin my knees trying to "save" a drunk friend from getting run over by cars.
I did, however, eat way too much greasy food. A lesson was later learned by means of jittery nerves and heartburn. The full list is too embarrassing to relate here, but you'll be happy to know that the fried chocolate bar was truly the crowning glory of the binge. I'd been waiting all week to enjoy a dessert – any dessert – at the festival. Though I hadn't anticipated experiencing something that looked like a corn dog and tasted like Paula Dean's version of a quirky treat.