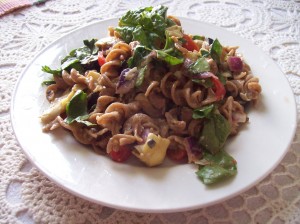 Gonna boast – when I took a bite of this, I almost died a little bit. That's how good it was.
You may or may not agree. Still, if you like the ingredients, you'll probably find the dish palatable. And (bonus), it's good for yaz!
After my grain adventure, I had to find something to do with the rye pasta spirals.
I toyed with ideas about veggie versions of corned beef dishes and the like, but then remembered that we had a ton of artichokes and tomatoes that had to be used. Here's the Haphazard Recipe:
Ingredients:
Rye pasta spirals
Onion, chopped
Garlic
Greek seasoning
Babybel cheese – Original
Olive oil
Pepper
Annie's Roasted Red Pepper dressing
Black olives, cut in half
Artichoke hearts, chopped
Grape tomatoes, chopped
Mushroom slices
Spinach
Balsamic vinegar
Directions:
Cook the pasta, adding the onions late enough just to soften them.
After draining, add garlic, Greek seasoning and hunks of the cheese. Within a few minutes, the cheese will melt in the warm pasta.
Add oil, pepper and dressing. Toss the pasta around to get the fats and flavors mixed in there.
Throw in all veggies except the spinach. Give the pot a little heat to warm everything.
Stir in the spinach and a splash of balsamic vinegar.
Devour.
The rye pasta really doesn't taste that different than whole wheat pasta. Still, it's nice for something different and a little nutritional variance.
Yum.