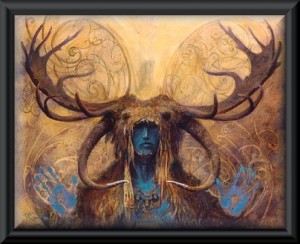 Don't mind old Herne up there. He's just being a god of the hunt – possibly a Celtic one.
I got bored with the idea of a "freelance" picture.
Anyway.
It's nice to feel wanted. This week, I was twice – twice – approached for freelance work.
Yes, fellow freelancers. They are hunting for us. Even if we don't spend a lot of time peeking from behind the trees and mingling in open meadows, a few employers are willing to take the time to track down us elusive freelance writers and offer us jobs.
One of the contacts is someone I've worked with before, and I was happy to hear from him. He's local and laid back and on the same page.
The other found me through the freelance "hook up" site Guru. If all goes well there I may get to do some educational writing about healthy sexuality, which is an interest that often falls by the wayside in my career.
So, feeling busy, feeling good. Now to work!