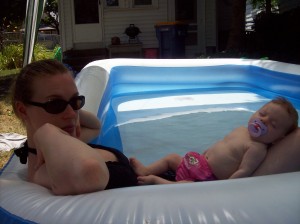 One year ago tomorrow was my last day of freedom.
Well, kind of. More specifically, July 10, 2011, was the last time I hung out with a friend and drank indulgent quantities of wine by large bodies of water without being concerned about caring for my child.
I probably would have behaved differently had I known I was four weeks pregnant. But I didn't, so I didn't.
It was a lovely day. The husband and I went to the beach with one of my favorite ladies, and then she and I continued the fun after he went to band practice. We walked the grounds of a 1920s mansion, stuffed our faces with luscious berries and sipped wine while dipping in and out of the pool and hot tub at her sister's posh condo.
Hard to imagine that mindset now… I don't think I'll ever be that carefree again. At least not until Iris is safely grown and on her own. Even then, I imagine I'll look for signs of her well being daily on whatever Facebook equivalent is in use 20 years from now.
Of course, it's totally worth it. Still, there's a part of me that will always envy my pre-parent self, if only because of the bliss of ignorance. But again, totally worth it.