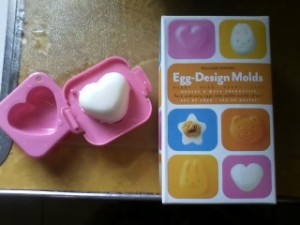 Hello!
This is me trying to resurface after my daughter, Iris, was born a little over seven weeks ago. That sounds like a long time to me, but it went SO fast…
Anyway, as it's Wednesday, I'm going to jump right into the routine with a post that is food, albeit fun food, related.
Let's talk eggs. For a more sophisticated discussion, check out this post. For an eggy idea, keep reading.
Last week, I accompanied a friend to Williams-Sonoma to purchase a wedding gift. As I stared lustfully at the kitchen essentials and embellishments that I could never afford, my friend held up a colorful box for me to see.
It was a collection of egg molds, meant to turn your hard boiled eggs into adorable little bears, bunnies, hearts and stars.
According to the box, the product was inspired by the Japanese bento boxes that feature creative and colorful works of food art.
And it was only $10. Sold!
I love eggs. Boiled is just about the healthiest, cleanest and most portable way to eat them, and these little molds also make it the most fun. While I won't be packing any bento lunch boxes any time soon, I think the shaped boiled eggs will be a fun treat for me and the hubs in the meantime.
~
Like I said, I'm trying to resurface. This week I've added Zumba and a blog post, and I'm hoping to make both at least weekly events. I might see you Friday, I might not be around until next Wednesday. Either way, it feels good to be here again.
Happy Hump Day! And Happy May!!!