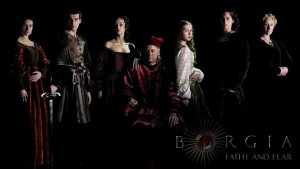 After I'd guilty pleasured my way through all four seasons of The Tudors, I was on the hunt for another, equally enticing, historical TV drama.
Searching through the streaming options on Netflix gave me Borgia. I'd heard about the show, but did not realize that there were in fact two series on the infamous Renaissance family. The only one available on Instant Play is a French/German production – not the one starring Jeremy Irons.
Without turning this into a review, I'll simply say that while the show is entertaining enough, the acting leaves a bit to be desired. It seems to aim for the epic nature of The Tudors, but falls short in the department of characters I'm able to care much of anything about.
Of course, as 99% of the main characters are scheming, power hungry and self-centered, maybe I'm not supposed to like them.
I didn't know anything about this family before watching the show. They were a bunch of smart, underhanded, self serving and horny people. The group centers around patriarchal Rodrigo Borgia, who becomes Pope Alexander VI in 1492. Both vying for his cause and living under his strict control are his children, Juan, Cesare, Lucrezia and Goffredo. Added to this group are the pope's not-so-secret mistress Giulia and her daughter by him, Laura.
Horrors ranging from cutting off fingers to trying to kill babies to rape, abuse and adultery are all within the realm of the typical for most Borgias. The men live with an unshakable sense of entitlement, and the women are fully aware of the power of using sexuality to mask their sharp minds. Needless to say, the potential for complicated drama is endless.
If you use Netflix's streaming feature, and are looking for something to watch, check Borgia out. Again, it's not as good as The Tudors, but it's kept this history nerd entertained enough for the time being.