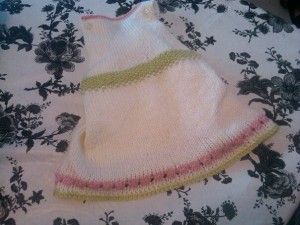 I saw my mom last night, and the first thing she said to me was that if our baby comes as early as I did, she'll be born tomorrow.
O.M.G.
Granted, we technically have two due dates – March 15 and March 18. I've seen both in the paperwork, and realize that it's likely to be neither of them anyway, but STILL!
I arrived 10 days early on December 10, 1980. It was a Wednesday, and I made my official debut at 4:47pm. My parents had just (like, the day before) moved into the new house my dad was almost finished building, and they were happily thinking they had another 10 days or so to get things settled.
Apparently, I had other plans. I mean really, who wants to have a birthday five days before Christmas? Not me.
The whole thing made me glad that a load of baby clothes is the only major task I need to do before I go into labor, and it's on the list for today or tomorrow.  And I do look very forward to putting her in the little jumper my friend Shawna made. Isn't is adorable?!?
Is it normal that there's still a part of me that doesn't fully grasp the fact that there will be a tiny human baby living in my house by the end of the month at the absolute latest?
Wow.