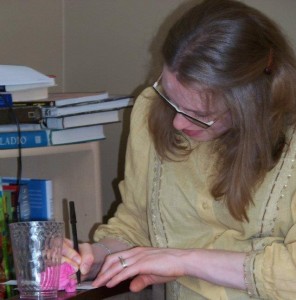 This past weekend saw me attending the last of the pre-baby showers. A couple are going to happen after the baby's born, but for now, the biggest new parent plans are the weekly OB appointments and a few loads of newborn laundry.
When we got married, friends and family graciously honored us with several showers, and I remember being struck by the generosity of these people. I'd been to plenty of bridal showers myself, and knew the drill. Still, to be in the middle of it, and to attend several (of which I was always the center) was so humbling.
It's been nearly seven years since that time, and I was again astonished at how giving the people in our life can be. It doesn't surprise me – I've long known that our crew is full of kind and thoughtful folks. But it's nevertheless quite something to be the recipient of so much love. Not only that, but our daughter, whom they've never even met, is already getting so much love.
I admit to feeling a bit like a cliche cheese ball, using words like love and kindness and humbling. They don't do justice to the reality of it, and just sound so… well, cliche. But, it's something I've been thinking about lately, and I see no reason to turn my appreciation into an excuse to try to sound like a genius, or as if I'm the first to feel this way.
Bottom line, my little family is more fortunate than I can grasp, and more thankful than I can express. To all of you who have been a part of this adventure, even if it's only through reading the blog or the occasional tweet, I want to say thank you. The time you've spent means a lot to me.