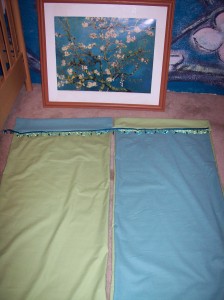 Long before having children was something I could think about realistically, I knew I wouldn't have a nursery that I didn't think was attractive as a room. I was determined to create a child friendly space that was also pleasant for an adult to sit in.
Fortunately for me, I have a very creative husband who shares my nursery decor philosophy. Our daughter's room "theme" is based on Van Gogh's Almond Blossom painting. Interestingly, I learned last night that the painting was created in celebration of a birth, and was to hang over the bed of the new parents. The spot we plan to hang the picture is right over the head of the bed we'll be using in the nursery for the first several weeks.
Huh.
Anyway, the walls are a deep, bright blue, and the accent wall is a pale green. Pink and brown trim is working nicely with the Van Gogh inspired mural my hubby painted on the west wall. The Van Gogh is matted and framed, and will soon go up above the sleeper couch. The only things left are a smaller version of the mural on the door and window treatments.
I'm not gonna lie – 99% of the curtains in our house are from Dollar General. If you do it right, you can find relatively tasteful treatments that hold up well for a number of years. And so we began a curtain search this weekend at our favorite discount stores. We're apparently far pickier about our infant daughter's curtains that we are about those in the rest of the house. Of course, her room has involved way more thought, really. We want to impress our new roommate.
We ended up at a fabric store, planning to easily find a simple, inexpensive fabric out of which my husband could easily make two panels (um, no, I do not really sew. Tried. Not very good at it. The Mr., however, stitches impressively). After going home to get the painting, we traveled back only to realize that we were never going to be able to make the fabric decision. Sooooo many options.
Enter Leanne. Leanne is a lovely woman who obviously enjoys helping customers realize their projects. She managed to decipher our babbling about what we wanted, and made things much simpler by ruling out patterns and complicated color choices. She suggested we use two light colors that would both match and allow for reversible panels. Then she had the genius idea to add a beaded trim – it's like she knew us! We walked out with the tools to make delicate, feminine and subtle window treatment that we'd have never found at a store.
I wouldn't say we saved any money, but it was worth it. Just one more little touch that will make the room unique, and a little wabi sabi. Hopefully the baby girl likes it!