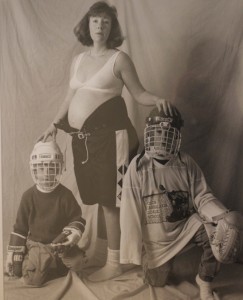 Yes, we're doing pregnant pictures. My husband decided early on that we'd do the belly shot weekly. We've held to that pretty well, though often it's every other week.
I anticipate quite a fun animation of my growth by the end of this happy project.
Of course, the belly pics are strictly for documentation, and leave a bit to be desired in the aesthetically pleasing and flattering departments.
Happily, my best friend is a talented photographer. And the pictures she takes are highly original – these are not going to be typical studio pictures. We did the shoot in her stately 1900 home, making use of turret windows, leather walls and marble fireplace. I cannot wait to see the finished product!
In the meantime, we enjoyed checking out the awkward pregnancy photos on the Internet (one of which is featured here). This chic's blog is pretty great, actually. I recommend flipping through it.
For a taste of my friend's talents, take a peek at her Flickr stream. The set linked to here is from a shoot we did in an abandoned building just east of Downtown GR.