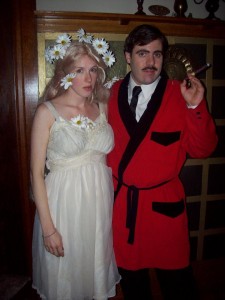 Short and sweet, folks. A full weekend has turned out to be much busier than planned, and I just don't have the time or energy to wax smart with my words.
So…
Happy Halloween!!!
Saturday was a day for being in costume, and suffering under a bushy blonde wig for several hours at a time. In the early afternoon, we visited the niece and nephews in our gnome costumes, as Gnomeo and Juliet is a current favorite over there. They responded better than they did to Link and Zelda last year, and didn't even ask us to remove our pointy hats. They grow up oh so fast.
In the evening, we attended the annual Halloween dinner party our best friends always throw. This time the theme was The Addams Family. We went as Gomez and Ophelia Frump, who is Morticia's love-lorn older sister. Her head is covered in daisies that have taken root and traveled throughout her body.
I think I read somewhere that she was actually an old girlfriend of Gomez's. Hmmm…
Dinner was fabulous as always, and our group of three Wednesdays, two Morticias, one Dia de los Muertos Morticia, a Gomez, a Fester, Thing, Kitty, Ophelia and the cleverly invented Cousin Hick and Thing's Limo Driver enjoyed wonderful conversation and the tastefully creepy decor of the House of Shadows.
I just love Halloween.
Enjoy your day, dress up if you can, eat a little candy and encourage the kiddos to spook it up – Happy Samhain!
Bonus: A few pics from last year's party featuring  Banshee, Banhee and the Ghost of Christmas Past.