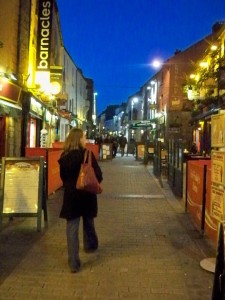 A couple of days ago, I heard from an old friend who'd spent the month of June in Ireland. It was really great to hear from him, as we've sort of lost touch over the past decade.
It was also great to sit back and enjoy some amazing pictures from his trip. It all reminded me that it had been far too long since I'd enjoyed anything Irish. There are moments when I really miss the days when I was at a live show every few weeks, tipping back Guinness every Wednesday and engaging in lively conversations with people that grew up in Derry and Donegal.
The great thing about having a passion like Ireland though, is that it's a country, a location. Unlike a band or a bar or even good friends, it'll always be there. Despite the changes that take place in any country, the land itself remains.
My friend spent the majority of his trip staying near Galway (around the middle of the west coast) with his wife and young son. When I heard that, I became especially 'homesick' for the island. I certainly have not been everywhere Ireland has to offer, but of the places I have visited, Galway is among the favorites. After the busyness and big city atmosphere of Dublin, Galway felt relaxed and friendly. Don't get me wrong – Dublin is fabulous. I guess, as a tourist, it just kind of felt like going from New York to San Francisco.
I'm sure experience has a lot to do with it. The first time I went to Galway, it was with my husband for our third wedding anniversary. A snapshot of my memory is: sunshine, vodka in the park where we fed pigeons and listened to live music, hippies in the street selling wonderful handmade jewelry, innkeepers that treated us like family and the purchasing of a cobalt blue ocarina and a Dubliners cd.
When I was there with my sister a year and a half later, the memory is: sunshine, clam chowder and my last taste of duck, modern lodgings in the middle of the city and a memorable stroll down the Old Long Walk (one day–i-a-i-aaa!).
At the risk of sounding cheesy, I'll even go so far as to say that Galway has felt as much like home as any place can when it's an ocean away from where you were born. And I'm not the only one who has said so. At least once a year, those of us who have been reaffirm to each other that if we could move our lives to Galway today, we would. It's just a wonderful, fun-loving city.
We do have plans to try to get back. In a little over a year's time, a  group of locals is making the trek, and we hope to be tagging along. I cannot wait to get back to Ireland, Galway and the endless green that my relatives left for a better life. I feel I owe it to them to make the pilgrimage when I can; it's a way to say that they made the right choice, and now it's possible to have the best of both worlds.
Slainte!